When most people decide to get a truck, they usually want something with all the pins, buttons and whistles. After doing a ton of research about the latest features, they'll settle on a few makes and models that stood out. That's when they'll finally think to themselves, "I wonder how much can this truck tow?".
Maybe you've reached that point in your buying process. And now you're asking yourself that question about the 2019 Frontier. Well, we here at Boch Nissan South have good news for you, the 2019 Frontier can tow a ton, as in a lot. Based on what trim and cab you select, you'll get different towing capacities. We're pretty sure you'll find the one that suits your specific towing needs.

Who Sets the Towing Capacity Standards?
There is an international organization called SAE International. They're an independent group at the forefront of transportation technology. They work with automobile manufacturers, such as Nissan, to set technical standards. This way consumers know they are getting unbiased information they can trust. SAE international are the ones that set the rules for towing capacity measurements.
Different towing capacities:
King Cab 2 wheel Drive 4 Cylinder – Maximum towing capacity: 3,180 lbs (1,728 kg)
King Cab 2 wheel Drive 6 Cylinder – Maximum towing capacity: 6,720 lbs (3,048 kg)
King Cab 4 wheel Drive 6 Cylinder – Maximum towing capacity: 6,510 lbs (2,953 kg)
Crew Cab 2 wheel Drive – Maximum towing capacity: 6,640 lbs (3,012 kg)
Crew Cab 4 wheel Drive – Maximum towing capacity: 6,380 lbs (2,894 kg)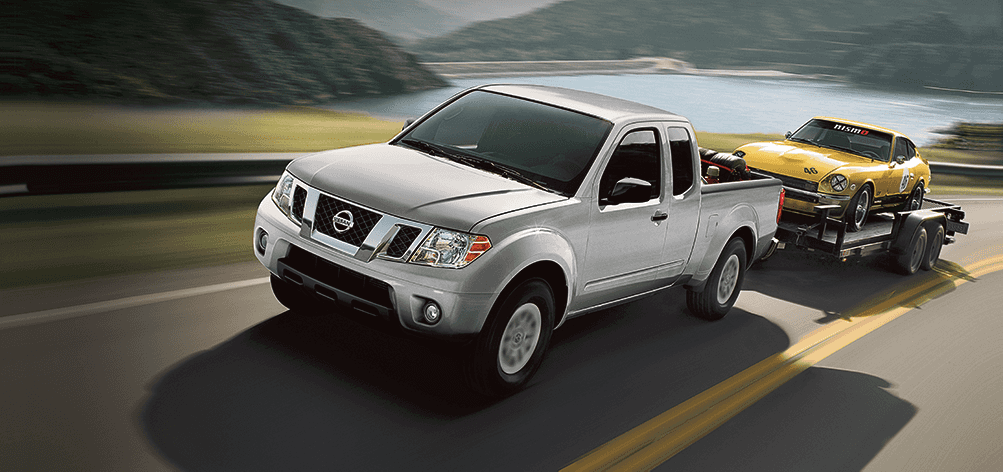 When truck shopping there are a lot of options out there. However, consumers realize that a strong, reliable, and capable truck is a must. The 2019 Nissan Frontier is one of the most powerful vehicles on the road, thanks to the latest auto technology that Nissan uses in all it's trucks. As you can see, the Crew Cab 2WD is the most powerful out of the lineup. We're sure whichever Nissan truck you settle on will satisfy your needs.
Want to learn more about other useful capabilities of the 2019 Nissan Frontier? Ready to test drive one? Contact our staff at Boch Nissan South for more information!
If you enjoyed reading this post and found it helpful, please share with your friends and family, thank you!